Universal African Dance and Drum Ensemble (USA)
UAD= Universal African Dance & Drum Ensemble (United States of America)

Many say
"This is the most spectacular performance of its kind ever seen in America"
Sensational, Electrifying, Exciting, Amazing, Powerful and EDUCATIONAL
Truly a representation of "The Beauty of African Culture" and most of all
FAMILY
From the Babies to the Elders

---
National & International AMBASSADORS OF THE CULTURE
KEEPERS OF THE CULTURE
Featuring: African Dance, Traditional Songs, Stilt Walking / Dancing, Masquerading, Martial Arts Acrobatics, Drama & Intensified African Drumming
---
Universal African Dance and Drum Ensemble in Philadelphia, Pennsylvania at the Kimmel Center 2004 Below




Universal African Dance & Drum Ensemble
Blessed and Sanctioned to be one of the BEST Professional,
Authentic African Dance and Drum Ensembles in the U.S.A.
and Performing Arts Organization located in Camden, New Jersey and Philadelphia, Pennsylvania
(MINISTRY OF CULTURE & FAMILY)
"A people without the knowledge of their past history, origin and culture is like a tree without roots" (Honorable Marcus Garvey)
"Consciousness precedes UNITY" (Dr. Molefi Kete Asante)
"We must display and be the beauty, righteousness and love of our original culture" (Robert Dickerson)
(AVAILABLE TO PERFORM ANY WHERE IN THE UNITED STATES OF AMERICA and ABROAD)
---
Our Mission: To educate people about African Culture and history through music, art and the performing arts, especially African Dance and Drum. In addition, we seek to instill pride, dignity and enhance the understanding of the African American experience in relationship to our African Heritage.
Universal African Dance and Drum Ensemble's Biography
CLICK HERE
---
FOR PERFORMANCE BOOKINGS: CONTACT US- CLICK HERE
Universal African Dance & Drum Ensemble (USA)
"One of the greatest presentations of African Dance, Drum and Culture in the United States of America"
SPECIALIZING in
Educational Programs, Performances, Workshops and Theatrical Productions
for SCHOOLS, COLLEGES,
FESTIVALS, CORPORATE, RELIGIOUS and COMMUNITY Events
● Historical Educational Presentations
● Educational (Geography) School Assemblies on African Culture and Performing Arts
● Anti-Bully Presentations
● After-School Programs
● Multi-Cultural Representation
● Summer Festivals and Events
● Kwanzaa Events
● Black History Month Programs
● African and African American Celebrations
● Weddings and Wedding Receptions
● FAMILY REUNIONS & FAMILY EVENTS
CLICK HERE FOR FURTHER EXPLANATIONS / pdf file
CLICK HERE FOR FURTHER EXPLANATIONS / jpg file
PAGE 1 / PAGE 2 / PAGE 3
Robert and Wanda Dickerson Founders and Creators of Unity Community Center (since 1983) and it's programs of
Performing Arts presentations, African and African American History of Study, Knowledge and Experiences since 1968
Universal African Dance and Drum Ensemble - Camden, New Jersey and Philadelphia, Pennsylvania
Click here for Basic Promotional Package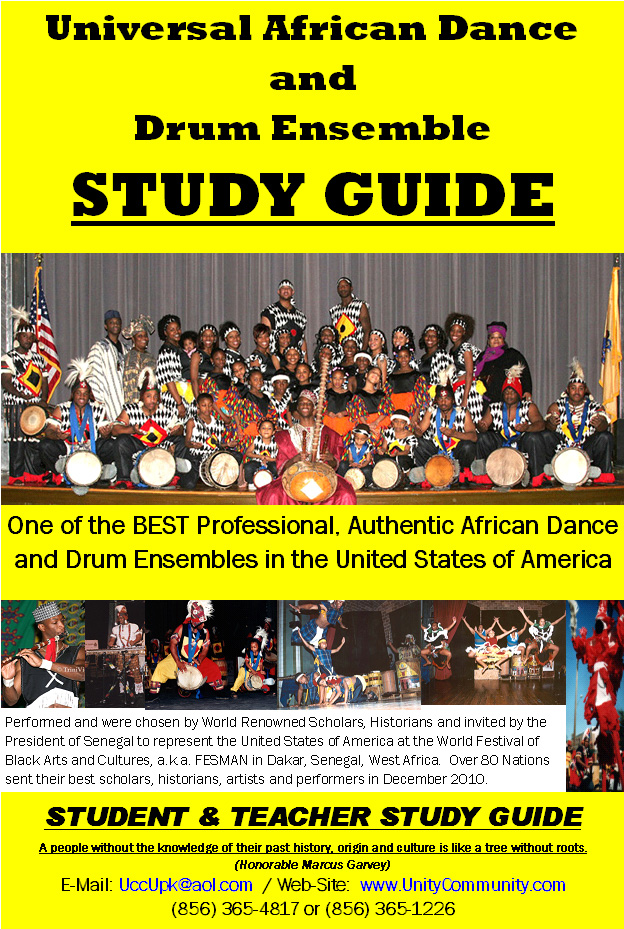 CLICK HERE FOR STUDY GUIDE
---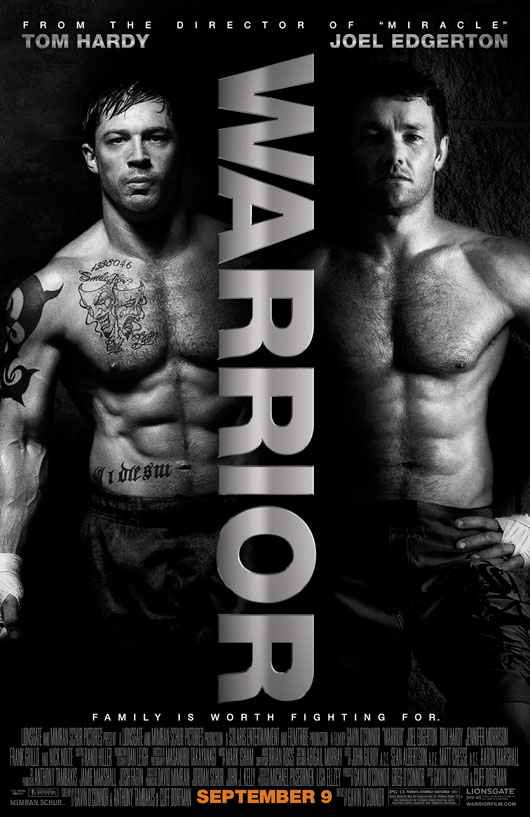 Universal African Dance & Drum Ensemble's drummers and stiltwalkers in the movie called WARRIOR by LIONSGATE with famous actors Joel Edgerton, Tom Hardy, Nick Nolte and Jennifer Morrison. In movie theaters across America which started Friday, September 9, 2011.
CLICK LINK BELOW FOR OFFICIAL TRAILER:
---
CONGRATULATIONS
A Historical and World Renowned Accomplishment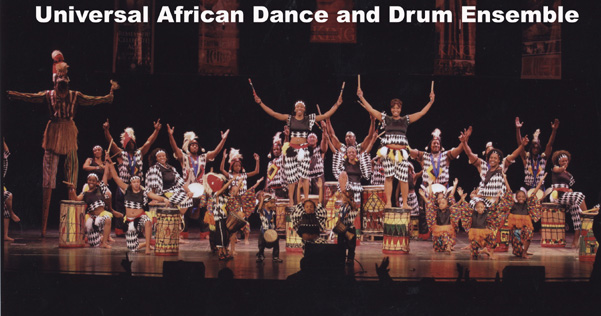 A distinguished committee of world renowned artists and scholars chose our very own Universal African Dance and Drum Ensemble to represent the U.S.A. at the historicalWorld Festival of Black Arts and Cultures, a.k.a. as FESMAN in Dakar, Senegal, West Africa. This world festival was held in December 2010. Over 80 nations sent their best scholars, historians, artists and performers to this WORLD ARTS FESTIVAL. We were proud and honored to be selected among the best performing arts groups in the world. Below you will find You-Tube Videos of us performing at this historical event.
(1) December 15, 2010 (Saint-Louis, Senegal Africa on INTERNATIONAL STAGE) Click here for You-Tube Video
(2) December 17 and 18, 2010 (On Goree Island and Senegalese wedding in Dakar, Senegal Africa) Click here for You-Tube Video(3) Further HISTORICAL information please Click here:
In addition, the Universal African Dance and Drum Ensemble, a 72 member troupe is sanctioned one of the best African Dance and Drum Troupes in America by renowned scholars, historians and artists in America and Africa.
---


A Sizzling new African Drum & Music CD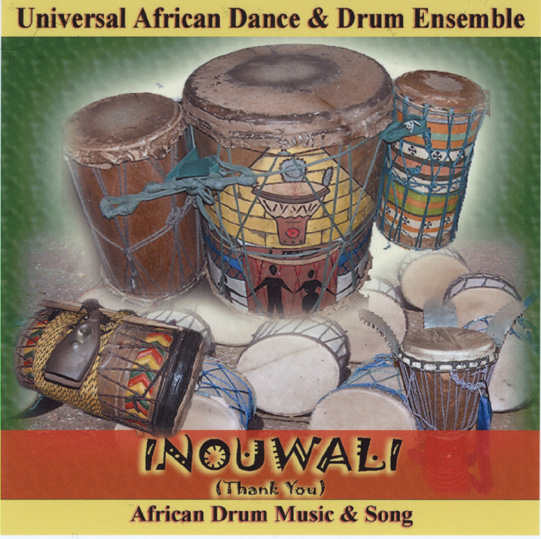 CLICK HERE TO ORDER DIMEDI FAABE African Drum & Music CD


"African Drum Beats and Music is the true root of all music (The 1st NOTE)"
"The Pulse of the Drum - Is the Spirit of the HEART"
"THE ORIGINAL AFRICAN DANCE and DRUM is where ALL DANCE and MUSIC COMES FROM"
Universal African Dance and Drum Ensemble in America
CD (DIMEDI FAABE) & PERFORMANCE REVIEWS
Music that penetrates the soul
"Their performance was so thorough, we are going to play the CD all day at the Imani Celebration fest in California; You (Universal African Dance and Drum Ensemble) are the best that I have ever seen." DR. MAULANA KARENGA- Professor, Author, Historian / Creator & Founder of KWANZAA
"I've traveled all over the world, they are the best I've ever seen in this country." DR. MOLEFI KETE ASANTE- Professor, Author & Historian / The father and author of Afrocentricity
So very proud of their performances at the Mann Center. Robert and Wanda Dickerson' true commitment and dedication to our young people should forever be applauded. I've worked with their organization for 18 years joyfully as cultural partners with the Mann Center's educational programs. Peace and Blessings Family! Rhoda Blount, VP Education & Community Engagement

"This group is wonderful, you must see them, it is hard to explain how good they really are." Legendary DR. BABA CHUCK DAVIS- Over 50 years of African Dance & Artistic Director for 38+ years for DANCE AFRICA / BAM
"I've traveled the world touring and performing and never found a group uplifting family and African Culture in America until meeting this FAMILY." MOUSSA DIABATE- Djeli,Griot, Historian & African Dance & Drum Teacher / Les Ballet Africain- Guinea, WEST AFRICA
" I heard a lot about them, (Universal African Dance & Drum Ensemble) when I seen them, (Universal African Dance & Drum Ensemble) (October 20, 2007) they are number one" M' BEMBA BANGOURA-Djeli,Griot, Historian & African Dance & Drum Teacher / The Ballet of Conakry & Ballet Djoliba - Guinea, WEST AFRICA
"They are the BEST, like the BALLET." MITO CAMARA- African Dance & Drum Teacher / Lead Drummer for Les Ballet Africain for many years- Guinea, WEST AFRICA


"I am 96 years old and I have traveled the world many times and seen many dance performances. That was the best dance performance that I have ever seen in my life"- (January 31, 2010) a wonderful elder Jewish Lady at a Jewish Elderly Center in Pennsylvania


"The impact that you (Universal African Dance and Drum Ensemble) put on people; if more people would do that, it would impact the world" (October 5, 2011) Dr. Johnnetta Betsch Cole, Director of Smithsonian Institution National Museum of African Art
Click here for Basic Promotional Package