Moussa Diabate
Universal African Dance And Drum Ensemble is honored to have superb traditional dance and drum from our African teachers from Guinea ( West Africa), Moussa and his sister Tenenfig.
DJELI MOUSSA DIABATE

West African Traditionalist Master Dance & Drum Teacher,
Artistic Director & Choreographer

World Renowned Djeli, Griot, Historian, Teacher, Advisor and Healer

Djeli Moussa Diabate has been one of the finest dancers with the National Ballets of Guinea (Africa) and was artistic director for National Ballet Silimbo of Senegal for many years. He is a master dancer, drummer and musician and has toured Africa, Europe, Asia and the U.S.A. He also performed on Broadway (New York City), at Yale Repertory Theater and at Brooklyn Academy of Music.
Moussa is the son of the Chief of the Djelis, El Hadj Komba Ansou Diabate of Conakry, Guinea in West Africa. El Hadj Komba Ansou Diabate for more than 35 years was a founding member of the National Instrumental Ensemble and composer of the Guinea National Anthem.

Moussa is also a Griot from the great lineage of the Diabate Family from the Malinke people of Guinea, West Africa. Moussa was taught the dance, music, storytelling, history and mythology of West Africa by his father, Komba Ansou Diabate, the "Great Griot of Guinea", and his mother, one of the first premiere dancer with Les Ballets Africains.
Moussa has trained and toured with the National Ballet Djoliba and the National Theatre of Dakar's Ballet Silimbo. A former lead dancer for the Troupe Federale de Conakry III National Ballet of Guinea, Moussa has been a dancer all his life.

Moussa came to the United States teaching traditional performing arts and worked on Broadway in George C. Wolfe's production of The Tempest and worked as assistant choreographer and consultant for Savion Glover's hit show, "Bring in Da Noise, Bring in Da Funk."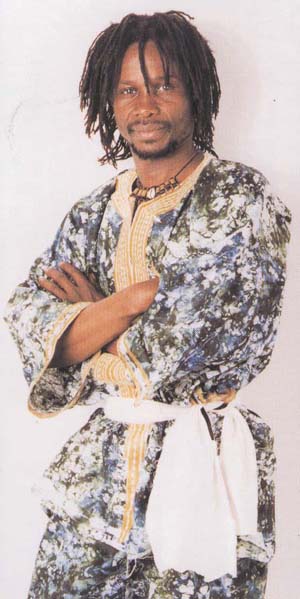 His life and membership with the great ballets of Guinea, such as Les Ballet Africain has made him one of the most respected teachers in the world. Since 1987 Mr. Diabate has choreographed, performed, lectured and taught extensively in the U.S., Japan, France and West Africa. He is the founder and artistic director of Djely Kunda West African Dance Company. Moussa currently maintains residency in Dallas, Texas.
One of Moussa's favorite students is JAMAL P. DICKERSON, who is the chief choreographer and artistic director of the Universal African Dance & Drum Ensemble in Camden, New Jersey (USA). Jamal has been a dedicated student under Moussa Diabate since 1999.
* Djeli, is a messenger of the African tradition. He or she is a historian, a teacher, and adviser and sometimes a healer, who strongly influences African Arts and Culture. As the author "Amadou Hampate Ba" wrote: "when a Djeli is dying, it's like a library is burning."

---
CONTACT: MOUSSA DIABATE DIRECT- CLICK LINK BELOW
http://www.moussadiabate.com/
omdiabate@msn.com 214-766-4877
---