Universal African Dance & Drum Ensemble
National & International AMBASSADORS OF THE CULTURE
KEEPERS OF THE CULTURE
Featuring: African Dance, Traditional Songs, Stilt Walking / Dancing, Masquerading, Martial Arts Acrobatics, Drama & Intensified African Drumming
UNIVERSAL AFRICAN DANCE & DRUM ENSEMBLE, founded and directed by Robert and wife Wanda Dickerson in 1984 and co-directed by their oldest son Jamal and wife Ronsha Dickerson, has grown to be one of the largest professional authentic and traditional African Dance & Drum Ensembles in the United States of America. The Universal African Dance & Drum Ensemble headquartered in Camden, New Jersey which includes members from Camden, New Jersey, Philadelphia, Pennsylvania and Africa.
The Universal African Dance & Drum Ensemble has also been blessed and sanctioned the best of its kind as an African-American Dance & Drum Troupe in America by scholars, historians and African Djelis (historians). They strive to be sensational and electrifying with their amazing Stilt Walkers, Dancers, Drummers, Ground Masquerades and with an exciting acrobatic show.
Universal African Dance & Drum Ensemble has performed at many prominent and prestigious events, including performing for and honoring leaders of countries, celebrities, politicians, religious, business and community leaders all over America and abroad in the Caribbean of Trinidad & Tobago and Africa. They have also represented the beauty of African culture by performing and being viewed by millions on cable, local, national and international television.
The Universal African Dance & Drum Ensemble's teachers and officials, have been taught by many great teachers from many countries in Africa. They are known for their West African presentations, of Guinea, Senegal, Mali, Ghana, Ivory Coast, Nigeria, The Gambia, Liberia, Sierra Leone, and more. They have been blessed to have learned songs, dance and drum from a famous South African troupe called Thula Sizwe. In 2007, Universal African Dance & Drum Ensemble also had the privilege to learn and perform with a wonderful group from KENYA, East Africa, called The Friends of Sironka African Dance Troupe.

The Universal African Dance & Drum Ensemble is also a very versatile group of professionals, educators, nurses, veterans, police, business, community personnel, college students, school students and children. They are a very flexible troupe who are able to conform their troupe from 72 to 2 performers. They professionally perform song, dance and drum from many sections and cultures of Africa, while teaching the culture of West, East, South, Central and North Africa, through the arts. Their artistic and exceptional choreography gives them the ability to accommodate your specific events.
Blessed and sanctioned to be one of the BEST and the most exciting African Dance and Drum ensembles in the USA. In addition the Universal African Dance and Drum Ensemble were chosen and endorsed by world renowned historians, scholars and artists in America and Africa to represent the USA at the World Festival of Black Arts and Culture (FESMAN) in Dakar, Senegal, Africa in December 2010, where over 80 nations presented their best. At this historical event Universal performed in Saint-Louis, Goree Island, and Dakar, Senegal, AFRICA.
(1) December 15, 2010 (Saint-Louis, Senegal Africa) Click here for You-Tube Video
(2) December 17 and 18, 2010 (On Goree Island and Senegalese wedding in Dakar, Senegal Africa) Click here for You-Tube Video
(3) Further HISTORICAL information please Click here:

Universal African Dance & Drum Ensemble has been blessed with five outstanding Stilt walkers and greatly blessed with the famous "Pasha" the Stilt walker / Dancer. "Pasha" the Stilt walker has been a member since 1984.
All 72 active members of the Universal African Dance & Drum Ensemble are Martial Artist (Karate) practitioners and many are local, national and world Karate champions from the 4-time Hall of Fame Karate School, called the Universal Pasha Karate School (UPK). Most members are also musicians as students, teachers, scholars and performers who can read and write music. They can play musical instruments, such as trumpets, saxophones, pianos, trombones, violins, bass, tubas and more wonderful instruments. This group is made up of various inner-city African-American families of contrasting religions and different ways of life. This proves through the understanding of love and discipline, while practicing, working and training together, that UNITY can exist in the inner cities of America and other communities. Everyone should honor, respect and appreciate the culture from which African Americans (black people) of America originate. The Universal African Dance & Drum Ensemble presents to you, family values and the beauty of African Culture.
One of Universal African Dance and Drum Ensemble's GOALS is to help everyone and especially African-Americans or Black People of all religions or ways of life to learn, appreciate and understand the importance of honoring our heritage, roots and place of origin, which is the most beautiful and resourceful geographical area that is called Africa (THE MOTHERLAND). At the same time, helping our African Family appreciate that there are African-Americans helping to build UNITY, through teaching and emphasizing the importance of EDUCATION, HISTORY, AFRICAN DIASPORA, and of course presenting the beauty of our original culture of Africa through the PERFORMING ARTS.
Universal African Dance & Drum Ensemble is honored to represent the beauty of African Culture in America. They love and admire many African troupes all over Africa. Les Ballet Africains from West Africa (Guinea), has been their mentors, role-models, teachers and the group that they have modeled themselves after. The Universal African Dance & Drum Ensemble presents a powerful, sensational, electrifying and educational performances for everyone and especially for African-Americans (black people) in America to easily appreciate their culture.
Universal African Dance & Drum Ensemble's identity, signature and highlighted performances with five generations of performers are how they represent the beauty of family with children, teenagers, young adults, adults and elders performing traditional African songs, instruments, dance and drum. Universal African Dance & Drum Ensemble has been considered to be the trend setters for this kind of performances all over America. They are very happy to witness people of many races, religions, cultures and ways of life, appreciating their performances of Love, Discipline, Culture and Family. The members learn the importance of Respect, Love, Expressions, Etiquette, Ethics, Poise, the Nguzo Saba, (7 principles of Kwanzaa by Dr. Maulana Karenga - Creator of Kwanzaa), and many other righteous principles. The kind words of encouragement from thousands of people from all over the world, has been very inspiring. This appreciation helps Universal to stay strong, preserving and representing the beauty of African culture and most of all FAMILY.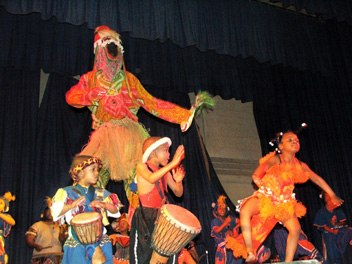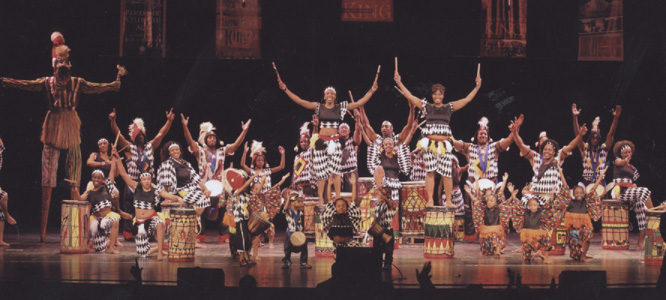 ---
Performing at many prestigious venues, such as: United Nations-NY, AFRICA, CARIBBEAN, Political Inaugurations, NAACP National Convention, National Association of Black Journalist Convention, Waldorf Astoria-NY, Grand Hyatt-NY, NJPAC-NJ, Brooklyn Academy of Music (BAM)-NY, Sunshine Awards / Gilman Figaro-NY, War Memorial (Trenton, NJ), Sony Blockbuster Entertainment Ctr., Tweeter Ctr.-NJ, New Jersey State Aquarium, Kimmel Ctr.-PHILA., Forum-Harrisburg, PA, Taj Mahal Casino-NJ, Trump Casino-NJ.Sands Casino-NJ, Show Boat Casino-NJ, Academy of Music-PHILA., International African Arts Festival-NY, Mann Center-PHILA., Robin Hood Dell-Phila., WDAS Unity Day-PHILA,, Odunde-PHILA., West Oak Lane Jazz & Arts Festival-PHILA, Penns Landing-PHILA., The famous UniverSoul Circus, Six Flags GREAT ADVENTURE, Expos, Performing Art Centers, Museums, Convention Centers, Festivals, Colleges, Universities, Schools, Fraternity & Sorority National Conventions, Government & State Agencies, United States Arm Force Facilities, City Halls, Fortune 500 or High Profile Corporate Events and many community events all over this country.
Seen by millions on Local, National, International and Cable Television, such as: Charles Perez Show- 1995, National News Networks, Positive Impact (JOE PISCOPO) Show, NBC-Today's Show - Matt Lauer & Katie Couric with Joe Piscopo-2003, SPIKE TV- 2005, C-SPAN (International)- Millions More Movement 2005, CNN- (JOE PISCOPO-2007), TLC CABLE- 2009, WPVI 6, WCAU 10, KYW 3, WTXF 29, WPHL 17, WYBE 35, CN8 and many local TV shows around the U.S.A. since 1984.
---
CLICK You tube VIDEO links below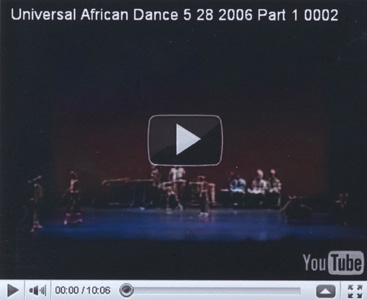 Universal African Dance in New York Part One
http://www.youtube.com/watch?v=s6m5bgRJBK0
Universal African Dance in New York Part Two
http://www.youtube.com/watch?v=77qmoR8MuFw
---
Click here for Basic Promotional Package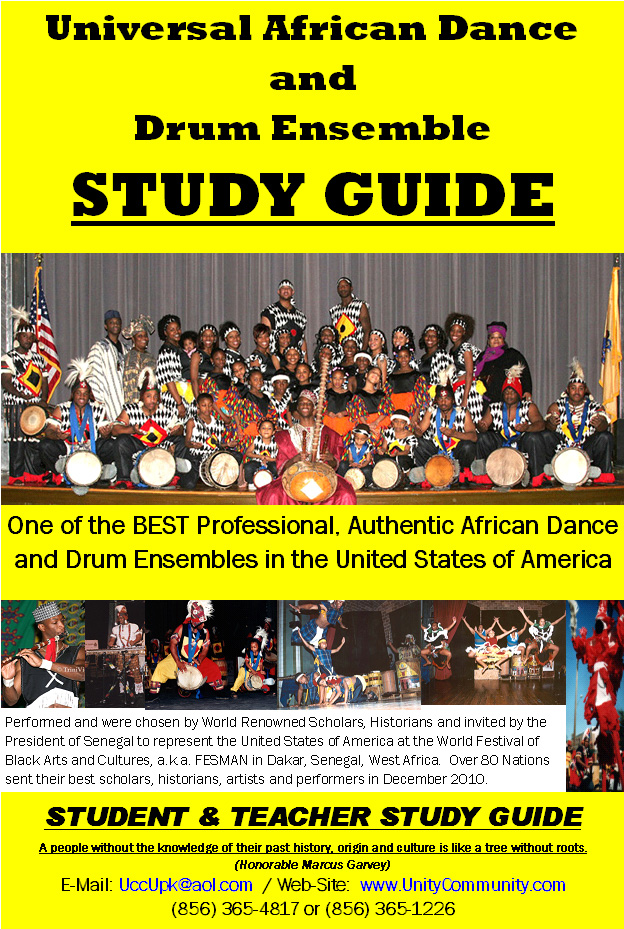 CLICK HERE FOR STUDY GUIDE
---