World Champion
UPK Pasha Generals Drill Team
Guaranteed to make you STOP, LOOK and LISTEN

Greatest Drug & Crime Prevention Presentation in America
Excellent for STOPPING THE VIOLENCE PROGRAMS and EVENTS
Specializing in EMPOWERMENT WORKSHOPS AND LEARNING
---
THE BEST ANSWERS for
CRIME, KILLINGS AND GANG Related PROBLEMS
MINISTRY OF DISCIPLINE PROGRAM
---
A model, A solution, THE answer
that scholars and leaders talk and write about for young people at-risk,
concerning the social ills or problems that affect themselves and communities
---
Witness
Unity, Oneness and Discipline in Action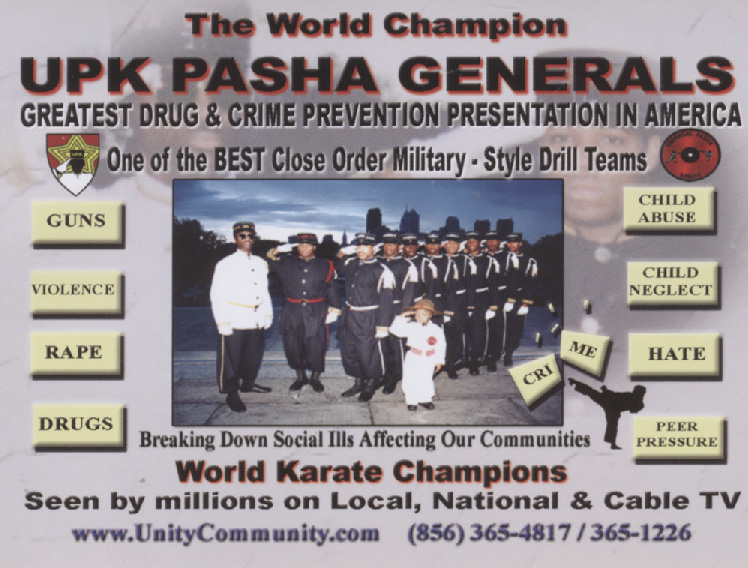 One of the greatest Drill Teams in America
LOVE & the Development of SELF-DISCIPLINE IS THE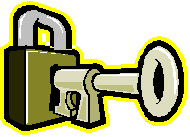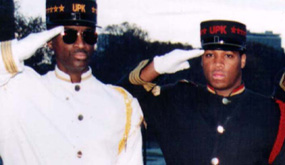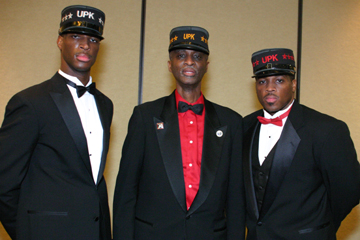 Father Robert & Eldest Son Jamal) / Son Nasir, Father & Son Jamal
The UCC's Leadership and Cadet Discipline Program
This program was formulated in the year of 1984 by Sensei Robert Dickerson who has been a member of drill teams since 1964, in Darby & Philadelphia, Pennsylvania. The Universal Pasha Karate Demonstration Team and the UPK Pasha Generals are the examples and results of our Leadership and Cadet Discipline Program.
The UPK Pasha Generals founded and created by Sensei Robert H. Dickerson, a 9th Degree Grand Master Black Belt in the Martial Arts. The Generals are directed by his sons Jamal and Nasir Dickerson who are also Masters in the Martial Arts. The UPK Pasha Generals specializes in close order discipline military-style drilling.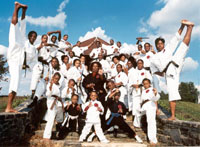 The members of the UPK Pasha Generals Drill Team are some of the elite members of the Universal Pasha Karate School and the UCC Leadership & Cadet Discipline Program. This is a Rites of Passage Program developing (Boys to Men & Girls to Women) using the dynamics of the Martial Arts and Military Style Boot Camp Techniques and Training. A very important part of our program curriculum is ethics (morals) and teaching etiquette (manners) while stressing to the young people at-risk to do the right things in life. This program is open for all people, no matter what race, ethnical, religious, economical or educational status you may be. This course will help you develop the self-discipline that you will need to be successful in a world of competition. It helps you develop the discipline that you will need to achieve academic accomplishments and excellence. We conduct workshops, seminars, training sessions, and demonstrations on developing leadership and self-discipline. This program is different from most cadet programs since it teaches the value of morality and stresses the importance of cultural, historical and social awareness for inner-city youth or at risk youth. This program without any doubt, has proven its successful way in developing inner-city youth, when many programs have failed in rehabilitating youth.
Developing Boys into MEN and Girls into WOMEN
One of the greatest Rites of Passage Program developing (Boys to Men & Girls to Women) using the dynamics of the Martial Arts
and Military Style Boot Camp Techniques and Training in America.

The value of morality and changing behaviors for the best
WORKSHOPS, SEMINARS & DEMONSTRATIONS OR PERFORMANCES FOR:
Colleges & Universities,
Schools Pre. To High, Religious Institutions, Community Organizations, Homeless Centers or
Those interested in understanding youth



PROGRAMS & BENEFITS


Drug and Crime Prevention, Leadership Development, Relationship Counseling, Group Counseling, Cultural Awareness
Historical Awareness, Social Awareness, Cadet Training, Family Survival
Developing that hidden genius, Academic Achievement- (Tutoring), Mentor, Heroes and Role-Models

Self-Defense Skills, Self-Confidence / Discipline / Control, Self- Awareness / Esteem (Respect) Etiquette
The development of the BODY, MIND and SPIRIT (The Wholistic Person)

UPK PASHA GENERALS
The UPK Pasha Generals specializes in close order discipline military-style drilling. Their purpose is to serve as a model of what young people can achieve if they understand the principles of love and discipline. They represent the character, morals, and values of manhood sought by many people and especially the women in this country. One of the most unique qualities about the UPK Pasha Generals is that they are all world Karate champions. The UPK Pasha Generals are multi-talented in the performing arts. They are instrumental, jazz musicians and the drummers of the Universal African Dance & Drum Ensemble. The UPK Pasha Generals have been seen by millions, on cable, local and national television.
Many say, that the UPK Pasha Generals almost defy explanation, (YOU MUST SEE THEM IN PERSON) but we can say, they have a UNIVERSAL APPROACH that can be appreciated by many races, religions, cultures and many ways of life.
The members of the UPK Pasha Generals are all advanced Karate practitioners, from the Universal Pasha Karate School, in Camden, New Jersey. They are helping thousands of youth by teaching leadership development and Martial Arts. They have suffered the same problems that most inner-city youth are faced with daily. However, they have grown into honor roll students, college students, college graduates, school teachers, entrepreneurs, advanced-level musicians, Karate World Champions, and positive role-models for their peers. We are raising these young men to be disciplined, protectors, positive, righteous and lovable fathers, to make better families for our children and communities.
With the dedicated help of Mr. Dickerson oldest son Jamal P. Dickerson, who is also the UPK Pasha General's Supreme Captain and Head Drill Instructor (DI), they have received the title of the 1993 Worlds Best Disciplined Drill Team in Baltimore, Maryland. In 1994 they received the Worlds Best Overall Drill Team in Chicago, Illinois at the I.B.P.O. Elks of the World Drill-A-Rama Championships.
Today, the UPK Pasha Generals travels extensively conducting workshops, seminars and demonstrations on developing self-discipline. They participate on local, national, and cable television and radio talk shows. They provide a creative forum for people to understand the principles of love and discipline. The UPK Pasha Generals travel to schools, college, universities, community organizations, and religious institutions. The UPK Pasha Generals have received overwhelming acclaim from celebrities, politicians, educators and people of many cultures.
THE PERFORMANCE
(The greatest show on EARTH of Unity, Oneness and Discipline in ACTION)
You will hear a very meaningful musical fanfare from the UPK Pasha Generals instrumentalist. In the past they have played musical selections such as "SUPERMAN", Star Wars and the Stylistics, hit classic, STOP, LOOK & LISTEN. We must teach our students and children to be super and help them strive for greatness. The UPK Pasha Generals instrumentalists is noted for ending their fanfare with the theme song from the famous movie "ROCKY". This fanfare represents the Final Bell, the importance of being a champion in life. You may get knocked down, you may fall down, BUT YOU GET UP. Through the understanding of love, discipline, HOPE and FAITH you will value the importance of being a CHAMPION in life. The UPK Pasha General's performance is designed or specially tailored for children, adults and elders to relate and understand our purpose in presenting the power of unity, oneness and discipline in action.
It is one of the most dynamic presentations for DRUGS & CRIME PREVENTION in the U.S.A., you will see formations like the HOUSE, which represents the kingdom of God within; you will also witness formations like the Pyramid, the Diamond, the 360 degree circle, the Star, the X, the Cross and other formations that have profound symbolism and significance. You will witness Unity, Oneness, and Discipline in ACTION. You will also witness an exciting Martial Arts (Karate) Board Breaking Ceremony which is a symbolic ceremony of breaking down some of the major social ills, that effect families, educational systems, inner-cities and other communities across this country. These young men are expert Martial Artists. The boards are stenciled with the social ills of crime, guns, violence, peer pressure, hate rape, drugs child abuse, child neglect and other community destroying elements. You will witness powerful breaking of these pine boards using punches, kicks and strikes from these World Karate Champions. Many say, the Generals discipline and drug awareness presentations is PHENOMENAL.