Brother Robert H. Dickerson, the founder, along with his wife Wanda is the creator and C.E.O of the Universal African Dance & Drum Ensemble, at the Unity Community Center of S.J. Inc., headquartered in Camden, New Jersey which he also created and started in 1983. Mr. Dickerson, a 9th Degree Grand Master Black Belt, has been training, practicing and studying the Martial Arts (Karate) and Boxing since 1968. He is a recognized professor of the Martial Arts, author and a teacher who specialize in programs that develop self-discipline and moral character for the community, especially the youth. Mr. Dickerson created The World Champion UPK Pasha Generals, who specializes in close order discipline military-style drilling. The purpose of the UPK Pasha Generals is to serve as a model of what young people can achieve if they understand the principles of love and discipline.
Since 1968 he has been a member of African-American organizations in Philadelphia, Pennsylvania, dedicated to helping and teaching at-risk or inner-city youth and the community the Martial Arts (Karate) and African-American History. In the late 1960's he was a leader and President of Black History programs in High School, and carried his leadership skills in the communities of Darby and Philadelphia, Pennsylvania. He strives very hard to be a positive role-model and a righteous contributor in uplifting humanity for his family and community. Mr. Dickerson was raised as a Christian; however he attributes his love and dedication for the community to the Honorable Elijah Muhammad's Nation of Islam and the Honorable Minister Louis Farrakhan. Because of the assassination of the Reverend Dr. Martin Luther King in April of 1968, Mr. Dickerson says this gave all of the Black Nationalist organizations another meaningful platform to recruit new young members. Mr. Dickerson and his two brothers George and Warren became members of the Nation of Islam in 1968 in Philadelphia, Pennsylvania as teenagers and received their official X in 1971 at Temple #12 Headquarters, Philadelphia, Pa.
From his life experiences in religions, he has learned the universal approach to truly uplifting humanity and has taught his students the value of working with and understanding all peopleís ways of life. His ultimate goal was a universal and spiritual approach of LOVE and DISCIPLINE to continue the beauty of uplifting humanity while at the same time teaching African Americanís their roots, pride and the history of the African Diaspora.
Mr. Dickerson, a PERFORMING and CULTURAL ARTS HISTORIAN, advocate and cultural activist who loves history and specializes in the collection of historical information, literature, tapes, photos, audio and video education of African-American leaders and organizations. He continues to teach the young people the value of living, loving, and respecting their culture, family, community and of course African-American leaders who have made great accomplishments in helping the Community, America and the World.
Since 1983, Mr. Dickerson has instituted in his African Dance & Drum classes as well as the Martial Arts (Karate) classes, the reciting, practicing and living the NGUZO SABA (The Seven Principles) founded by the creator of KWANZAA, Dr. Maulana Karenga. It is a joy to hear children ages one to our elders over 70 years recite the seven principles after every class. Umoja (Unity), Kujichagulia (Self-Determination), Ujima (Collective Work and Responsibility), Ujamaa (Cooperative Economics), Nia (Purpose), Kuumba (Creativity) and Imani (Faith). In July of 2007 Robert and Wanda Dickerson were given their beautiful African names from Dr. Maulana Karenga while attending the Kawaida Institute of Pan-African Studies 30th Annual Seminar in Los Angeles, California. Robert was given the name Mshujaa (Warrior) and Wanda's name Mpaiji (Generous one).
Mr. Robert Dickerson has received many awards and accolades from World Renowned Historians, Scholars, World Leaders, Senators, Governors, Freeholders, Mayors, City Councils, Educators, Religious, Business and Community Organizations.
Robert and his wife, Wanda Dickerson, has been together since 1973 after meeting at their Karate School in Philadelphia, Pa., under their Grandmaster Karate teacher, Mr. Alfred Dennis, a.k.a. Grandmaster Ameer. They got married September 26, 1975, and blessed raising their wonderful two sons (Jamal and Nasir) and two daughters (Atiya and Ayanna) and blessed with twelve Grandchildren and two Great Grandchildren.. Together they have developed a safe haven for our youth in the Camden, New Jersey and Philadelphia, Pennsylvania area. They have also produced one of the best performing arts organizations in the United States of America.
Two of their main goals, in the Universal African Dance & Drum Ensemble is to help African Americans or Black People understand the importance of honoring their place of origin, AFRICA (The Motherland), while at the same time helping our African Family appreciate that there are African Americans or Black People helping to build between the two, UNITY, through emphasizing the AFRICAN DIASPORA, HISTORY, EDUCATION and the PERFORMING ARTS, in order to receive respect and honor in America and all over the world. (2) Also in love and respect to all of our Arab or Muslim family all over the world and especially in the African-American communities; let's honor, love and respect the AFRICAN DIASPORA (The Trans-Atlantic Slave Trade) and understand the African-American struggle in America. We love our Arab family and our African-American Muslim community, however we must teach our African-American young people and family the value of their own original culture, which is AFRICAN CULTURE. In order to love yourself, you must love and be your Culture. This is the true essence of loving yourself. WE MUST PUSH and BE our AFRICAN CULTURE.
We will all witness our children's TRUE LOVE of SELF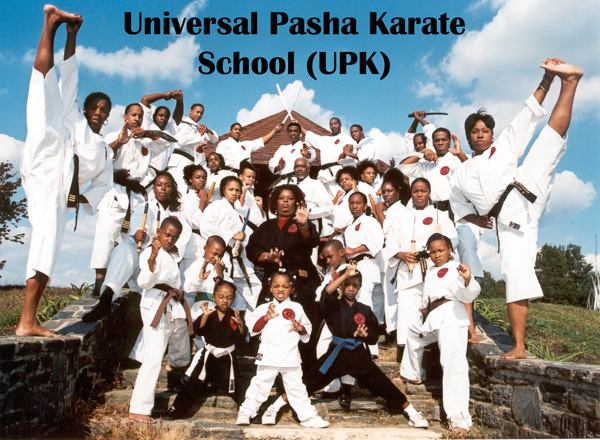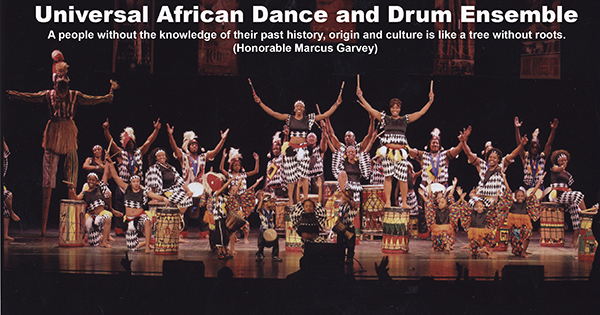 All members of the Universal African Dance and Drum Ensemble are also members and practitioners of our Universal Pasha Karate School
WE ARE ED-U-TAIN-MENT;
Educating with inspirational and positive entertainment
The MANIFESTATIONS of the SOLUTIONS and the MODEL of what scholars, leaders, historians and educators
TALK, PREACH and WRITE about concerning the SOCIAL ills or the problems of our youth and communities AT-RISK
MANY SAY we are one of the greatest REPRESENTATION and PRESENTATIONS in AMERICA
A people without the knowledge of their past history, origin and culture is like a tree without roots. (Marcus Garvey)
"We must display and be the beauty, righteousness and love of our culture." (Robert Dickerson)
"African Dance and African Drum is
THE ORIGINAL DANCE and THE ORIGINAL DRUM where ALL MUSIC COMES FROM"
"The Understanding of LOVE & DISCIPLINE is the KEY"
by Brother Robert Dickerson
The Issues of The Millions More Movement / 9. Artistic/ Cultural Development

We demand a greater accountability and responsibility of our artists, entertainers, industry personnel and executives, for them to commit to the redevelopment and upliftment of our people. We demand an end to the exploitation of our talent by outside forces. We will make strides in obtaining greater control over the means of production and distribution of our immense artistic talent and creative genius. We advocate for cultural development, and for the knowledge of our original culture to be used as a model for future advancement.
The Honorable Minister Louis Farrakhan
Click here for more of Robert H. Dickerson's Bio