2003 McDonald's Gospel Fest Grand Prize Winners in Praise Dance-
performances at Newark, New Jersey Symphony Hall & New York's Madison Square Garden-
The Beautiful & Marvelous - UCC PRAISE DANCE MINISTRY
Click Photos for VIDEOs BELOW

UCC Praise Dance Ministry January 20, 2008 celebrating Dr. Martin Luther King's Legacyof 40 years.
Video 1 (I'm Still Holding On & Stand Still / https://youtu.be/HXm_xiZBK8I and Video 2 (COLORED SECTION / https://youtu.be/2RnuNvxPAyk)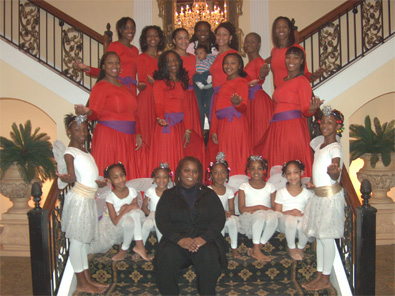 The Unity Community Center, was founded 1983 by the husband and wife team of Robert and Wanda Dickerson. In September of 1998, Atiya Dickerson-Johnson, Latisee Watson, Ayanna Dickerson and members of our community center who are from various churches in Camden, Southern New Jersey and Philadelphia, Pennsylvania started the UCC Praise Dance Ministry.
The UCC Praise Dance Ministry is directed by Mr. & Mrs. Dickerson. Their artistic directors are Mrs. Latisee Watson, Mrs. Atiya Johnson and Ayanna Dickerson. UCC Praise Dance is a community outreach praise dance group sponsored by Pastor Rev. John O. Parker of Antioch Baptist Church in Camden, New Jersey. Our group is dedicated to helping young people have the opportunity to express themselves spiritually through Gospel Music and Dance. Through the grace of God, we are also able to help and encourage them academically through our after school programs.
In the spring of 2003 they participated in the 20th Annual McDonald's Gospel Fest at Symphony Hall, Newark, New Jersey and Madison Square Garden, New York. Through diligent practice and their love of God, they were blessed with the grand prize award out of thousands of groups. They were highlighted on ABC Television with many gospel celebrities for this accomplishment.


UCC Praise Dance Ministry has grace the stage with gospel greats as, the Ward Sisters, Hezekiah Walker, Donnie McClurklin, Aretha Franklin, Pattie LaBelle, Cissy Houston, Vicky Winans, Melba Moore, Clifton Davis, CeCe Winans, Regina Belle, J. Moss and more.
UCC Praise Dance Ministry's founder Wanda A. Dickerson grace the stage performing praise dance at the historical Miss Black USA Pageant in Gambia, West Africa on June 1, 2007. This was a magnificent event and the first time that the Miss Black USA Pageant was held outside of the United States of America in West Africa where the famous Alex Hailey filmed the high acclaimed movie "ROOTS." UCC Praise Dance Ministry thanks Ms. Karen Arrington (Founder & Executive Director) and Ms. Dawn Moss (Executive Producer) of the Miss Black USA Pageant for giving us this wonderful opportunity.
In 2009 UCC Praise Dance were blessed to be a finalist out of over 80,000 participants of auditions for the McDonald's Gospel Fest. This historical event was held at the Prudential Center in Newark, New Jersey. The event had starring the legendary Patti LaBelle and Donnie McClurkin on June 13, 2009.
UCC Praise Dance Ministry performs constantly throughout America at many prestigious events. Many people have said to us and we have received many letters and emails about how our style of praise dance has helped them. We are honored and blessed to be considered by many as innovators, trendsetters, and positive role models through the praise dance ministry. Through the grace of God, we thank McDonald's Gospelfest and its Producer and Director Mr. Curtis Farrow for their hard work and dedication to have such a wonderful venue for young people and many to enjoy the beauty of the performing arts and Gospel music. We also pray that we can encourage young people and other churches to use praise dance as a vehicle to attract or give young people positive activities praising the Lord.
UCC Praise Dance Ministry also performs inspirational dance to songs by professionals such as Aretha Franklin, Stevie Wonder, instrumental music and Unity Community Center's live orchestra. This was designed specifically for educational, municipalities, and high profile corporate companies hosting programs or events in respect of the law concerning separation of church and state policies.
UCC Praise Dance (Tiny Tots)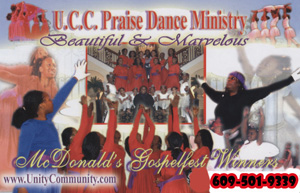 Specializing in Religious Events, Educational, Black History, Multi-Cultural, Community Events, Reunions, Funerals (Home Going Services), Weddings and Wedding Receptions or that special occasion.
For Performance Bookings
Contact: Mr. or Mrs. Dickerson
(856) 365-4817 or (856) 365-1226