GRANDMASTER
CARL BEAMAN
07/14/1939 to 06/12/2013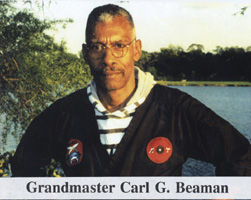 Grandmaster Carl Beaman was a professional boxer in the early 1960's. He trained and was very respected as a professional boxer for many years. In 1968, he wanted to extend his fighting ability, and he started a self-defense class at a Islamic Masjied. Shortly he started training with Grandmaster Earley Kelley in the art of Shotokan and Grandmaster Ameer (Alfred Dennis) in the art of Kyokushinkai. He trained very hard and was dedicated to both Japanese arts. He earned and received his black Belt in Shotokan and Kyokushinkai from both Grandmasters in 1971.
In 1976 he started training in the art called Bando headed and founded by Doctor, Professor, Grandmaster Dr. Maung Gyi. Dr. Gyi was instrumental in establishing the Martial Arts (Bando) in Washington D.C., and in 1960 Dr. Gyi formed the American Bando Association. Grandmaster Carl Beaman became one of Dr. Gyi's top ranked Kick-Boxing Champions in America. He is became head of the Bando Association in Southern New Jersey.
Grandmaster Beaman hold four Black Belts in four different styles. He holds a first-degree Black Belt in Shotokan, third-degree Black Belt in Kyokushinkai, second class black sash in Gung-Fu, and a Master's degree in Bando. He fought from the age of 35 to 42 in Full Contact Karate / Kick-Boxing and was one of the oldest champions in the United States of America. Grandmaster Beaman was a four time national champ in the middle weight division in Bando, East-Coast Full Contact Karate Champion, ranked number two in the world by the PKA and WKA and a Pennsylvania and New Jersey State Light Heavy-Weight Kick Boxing Champ.
All of Grandmaster Beaman sons, (Carl, Robert and Rahman Abdullah) are all expert Black Belt practitioners. Grandmaster Carl Beaman's contributions to the Martial Arts has earned him many awards and he was inducted into two pretigious World Martial Arts Halls of Fame. I am so honored to have known him and have been trained by him since 1971. He was truly one of my great Grandmasters, friend, mentor and teacher.
Our great Grandmaster CARL G. BEAMAN passed away of a massive stroke on June 12, 2013. Our deepest condolences and love for his wonderful family. Grandmaster Carl Beaman was the direct link to us meeting the late Grandmaster Ameer (Alfred Dennis) our Kyokushinkai teacher in 1971. Grandmaster Beaman was also the one that had me training with him and Dr. Gyi (BANDO) for many years. I enjoyed taking our Kick-Boxing (Bando) champions with Grandmaster Beaman to the Bando National Tournaments for many years. Universal Pasha Karate School will always treasure his magnificent instructions and teachings to us and to myself since 1971. A TRUE WARRIOR and GRANDMASTER OF THE MARTIAL ARTS.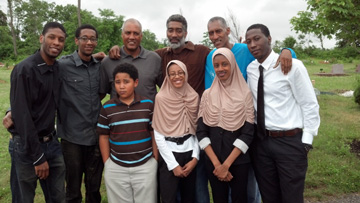 By Sensei Robert H. Dickerson